| | | | |
| --- | --- | --- | --- |
| Održan Seminar o najnovijim trendovima u bankarstvu | | | |
Wednesday, 20 April 2016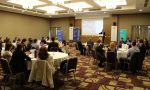 U saradnji sa KPMG, održan Seminar o najnovijim trendovima u bankarstvu, kome je prisustvovalo 30 predstavnika poslovnih banaka i Centralne banke Crne Gore.
Na Seminaru su predavači sa višegodišnjim profesionalnim iskustvom u finansijskom poslovanju, prezentirali sledeće teme:
- Transformacija bankarskog poslovanja , predavač Dušan Tomić,
- FTP :Upravljanje profitabilnošću, predavač Ivan Ćirković
- IFRS 9, predavač Uroš Milosavljević
- Bazel III , predavač Petar Arsić
- AQR : EU i Regionalna iskustva, predavač Sanja Kočović
- Rješavanje problematičnih kredita, predavač Nikola Đenić
Read more...
| | | | |
| --- | --- | --- | --- |
| The meeting with the Executive Director of the IMF | | | |
Friday, 08 April 2016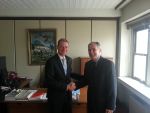 The Secretary General of the Association of Banks of Montenegro Mirko Radonjić with associates received today Executive Director of the International Monetary Fund Menno Snel, who is on a working visit to Montenegro.
At the meeting, they exchanged views on the current situation in the banking sector in Montenegro.
Monday, 04 April 2016

A new issue of the Banker magazine has been released...
Content >>>
| | | | |
| --- | --- | --- | --- |
| IT WAS A REGULAR SESSION OF THE ASSEMBLY OF THE ASSOCIATION | | | |
Friday, 11 March 2016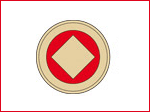 Financial report for 2015. and report on Operation for 2015. were adopted at regular session of the Assembly of Association as well as the Financial plan and Activity plan for 2016.
| | | | |
| --- | --- | --- | --- |
| Banks Donated EUR 15,000 to Clinical Centre of Montenegro | | | |
Monday, 21 December 2015
The Association of Montenegrin Banks and commercial banks donated EUR 15,000 to the Clinical Centre of Montenegro for the purchase of a new power generator.
The banks, as socially responsible companies, are continuously involved in implementing various actions of general interest. In that respect, they recognised the need to help the Clinical Centre, as a unique medical institution which provides its services to all citizens throughout Montenegro, to replace the current power generator that has been operating for more than 40 years and serves as the only back-up equipment for power supply.
The contract for donation was signed on behalf of the commercial banks by Mirko Radonjić, Secretary General of the Association of Montenegrin Banks and on behalf of the Clinical Centre of Montenegro, Prof. Dr. Ranko Lazović, Director.
Friday, 11 December 2015

A new issue of the Banker magazine has been released...
Download >>>
| | | | |
| --- | --- | --- | --- |
| INTERNATIONAL BANKING COUNCIL MEETING (IBC) | | | |
Tuesday, 20 October 2015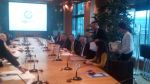 Representatives of Montenegrin Banking Association, Mirko Radonjić, Secretary General and Nebojša Đoković, advisor to the Association, attended the International Banking Council (IBC)meeting held in Budapest. Secretary General presented trends of the Montenegrin banking sector in 2015. Opinions and views were exchanged with other associations - members of the IBC: Azerbaijan, Belarus, BACEE, Georgia, Kazakhstani, Kyrgyzstan, Moldova, Russia, Serbia, Tajikistan, Uzbekistan, and Ukraine.
Monday, 19 October 2015

Mirko Radonjić, Secretary General of the Montenegrin Banking Association was awarded at regular Regional Conference of Banking Associations of Central and Eastern Europe for the development of international banking cooperation, awarded to him at the official ceremony by Mr.Istvan Lengyel.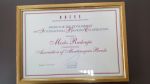 Friday, 16 October 2015

A new issue of the Banker magazine has been released...
Download >>>
<<

Start

<

Prev

1

2 3 4 5 6 7 8 9 10 Next > End >>