| | | | |
| --- | --- | --- | --- |
| Digitalizacija bankarstva, trendovi koji se prate i preko Udruženja banaka Crne Gore | | | |
Friday, 17 February 2017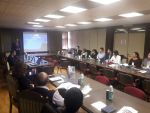 Udruženje banaka Crne Gore, organizovalo je 16. i 17 februara prezentacije i interaktivne radionice digitalnog bankarstva. Prezentaciju su uradili predstavnici firme ProgressSoft prisutni sa servisima u SAD, Zapadnoj Evropi, Aziji i Africi sa prikazom rješenja za Mobilna plaćanja u realnom vremenu i Opcije Kliringa. ProgresoSoft je prisutna u 24 zemlje, gdje sarađuje sa 370 banaka, komercijalnih i regulatorinih, što ih čini referenentnim, gdje su se fokusirali na razvoj platnih sistema ne rasipajući resurse na više pravaca.
Read more...
Monday, 13 February 2017

A new issue of the Banker magazine has been released....
| | | | |
| --- | --- | --- | --- |
| Sastanak sa predstavncima Svjetske banke | | | |
Monday, 13 February 2017
Danas je u prostorijama Udruženja banaka CG upriličen sastanak sa predstavncima Svjetske banke Gianfranco Bertozzi-ijem, Cevdet Unal-om i Denisom Mesihovićem na kojem su razmjenjeni stavovi o postojećem stanju bankarskog sistema kod nas.
Na sastanku su konstatovani kvalitetni pokazatelji na nivou bankarskog sistema Crne Gore, kako u pogledu iznosa depozitne baze Pravnih i fizičkih lica od oko 2,85 milijarde eura, tako i likvidnosti koja je nominalno iskazana kroz iznos od oko 923 miliona eura, kao i optimizam rezultata kroz akcije koje se očekuju nakon expertskih analiza WB koje će doprinijeti stabilnosti finansija generalno. Akcije u standardizaciji regulative koja se harmonizuje sa propisima razvijenih zemalja EU u narednom periodu ticaće se izmjene Zakona o bankama, Zakona o zaštiti depozita, usvajanje zakona o Faktoringu kao i usvajanje računovodstvenog standarda IFRS 9. Dogovorena je i tehnička saradnja koja će se razvijati kroz vrijeme sagledavajući prioritete.
| | | | |
| --- | --- | --- | --- |
| Memorandum on Partnership and Cooperation signed with the Albanian Association of Banks | | | |
Wednesday, 30 November 2016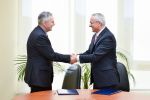 The representatives of the Montenegrin Banking Association (AMB), Mirko Radonjić, AMB Secretary General, and Albanian Association of Banks (AAB), Spiro Brumbulli, AAB Secretary General, met in Tirana to sign a Memorandum on Partnership and Cooperation. This Memorandum represents a framework for future cooperation between the two Associations of the respective countries, with the aim to create favourable conditions for the development of the banking systems in Montenegro and Albania.
This Memorandum is committed to concretize and exchange experience and expertise for the implementation of this cooperation, particularly in the financial education area, as well as training and other joint projects.
During the meeting the importance of regional cooperation in the multilateral framework was emphasised. This agreement will allow exchange of professional experience, joint contribution to improving the image of the banking system and increasing public confidence. In addition, one of the main objectives of the memorandum is to analyse the banking legislation in order to improve its harmonisation with international standards.
| | | | |
| --- | --- | --- | --- |
| SEMINAR ON IFRS 9 IMPLEMENTATION | | | |
Thursday, 17 November 2016
A seminar concerning the implementation of the International Financial Reporting Standard 9 "Financial Instruments" was held in cooperation with the Banking Association and Deloitte doo Podgorica, and with the support of the Central Bank of Montenegro. The seminar was attended by 31 representative from the commercial banks, CBCG and Investment and Development Fund of Montenegro. The lecturer at the seminar was Vuk Prvulović, an IFRS/IAS expert from Deloitte.
| | | | |
| --- | --- | --- | --- |
| Esad Zaimović, Chairman of the Managing Board, Bratislav Pejaković, Secretary General | | | |
Friday, 04 November 2016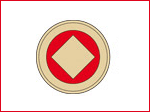 Montenegrin Banking Association held meeting of the Managing Board today and elected unanimously Esad Zaimović, CEO of Hipotekarna Banka as Chairman of the Managing Board, and Miroslav Hirsl as deputy Chairman of the Managing Board.
In accordance with the prevailing procedure, Bratislav Pejaković was elected Secretary General of the Banking Association.
The Banking Association has voted unanimously for the improvement of the internal organisation and work of the Association and for intensifying the cooperation with the Central Bank of Montenegro, Ministry of Finance and Banking Associations from the region.
| | | | |
| --- | --- | --- | --- |
| MEETING OF THE INTERNATIONAL BANKING COUNCIL | | | |
Wednesday, 02 November 2016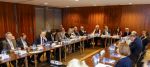 A regular meeting of the International Banking Council was held today in Kiev. It was attended Central, Southeast and Eastern European countries. Independent Association of Banks of Ukraine was the host of the meeting and it was attended by the representatives of the banking associations of the following countries: Azerbaijan, Kazakhstan, European and Asian Banking Association, Belarus, Russia, Ukraine, Serbia, Moldavia, Armenia, Poland and Montenegro. The main topic was fight against cyber-criminal and abuse of payment cards in the banking, and data on the operations of the banking systems in the participating countries were exchanged. In addition, a working group for the improvement of education in the members of the International Banking Council was established.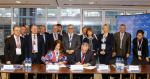 An MoU was also concluded on this day between the Independent Banking Association of Ukraine and Montenegrin Banking Association that was signed by the Secretary General of both associations, Elena Korobkova and Mirko Radonjić.
Thursday, 27 October 2016

A new issue of the Banker magazine has been released...
<<

Start

<

Prev

1

2 3 4 5 6 7 8 9 10 Next > End >>